WILL PEAK SEASON COME BACK SOON THIS YEAR IN THE US AND OTHER MARKETS?
𝐖𝐈𝐋𝐋 𝐏𝐄𝐀𝐊 𝐒𝐄𝐀𝐒𝐎𝐍 𝐂𝐎𝐌𝐄 𝐁𝐀𝐂𝐊 𝐒𝐎𝐎𝐍 𝐓𝐇𝐈𝐒 𝐘𝐄𝐀𝐑 𝐈𝐍 𝐓𝐇𝐄 𝐔𝐒 𝐀𝐍𝐃 𝐎𝐓𝐇𝐄𝐑 𝐌𝐀𝐑𝐊𝐄𝐓𝐒?
The Port of Los Angeles recently announced the first gain after 13 months of waiting. It is not a big deal (a 3 percent increase again in the same period last year), but it is a good sight for a slow improvement of consumption in the US after the COVID-19 pandemic. "August was a very solid month with increases both on the import and export sides of our business," noted Gene Seroka, Executive Director of the Port of Los Angeles, during a media briefing.
In the same source of information, breaking down the August 2023 figures, loaded imports amounted to 433,224 TEU, reflecting a substantial 7 percent increase compared to the previous year. Loaded exports also saw a considerable surge, reaching 124,988 TEU, marking a 22 percent increase compared to 2022.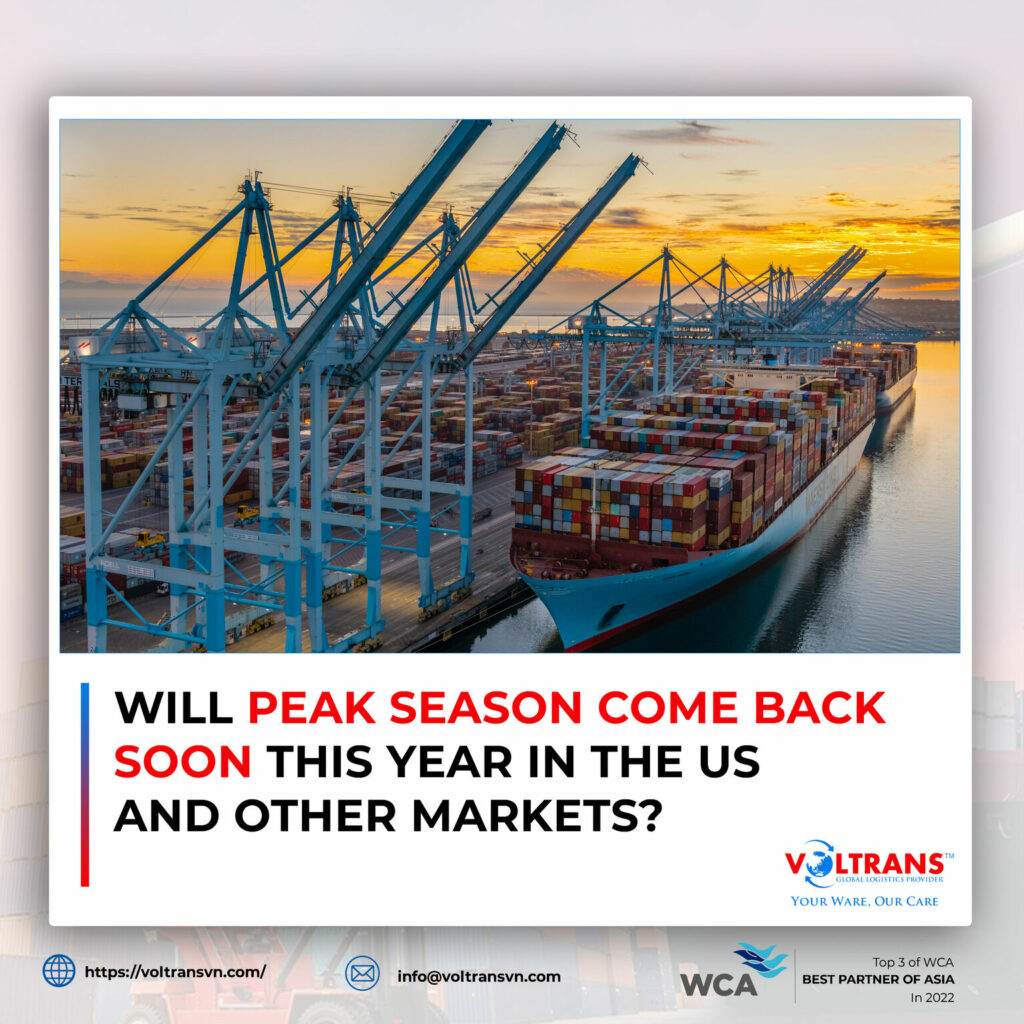 From the Vietnam side, we saw a matching figure of improvement in trade with the US, the largest market of Vietnam, in August with over 62.3 Billion USD turnover.
In the last two months, the shipments handled by our company – Voltrans Logistics – also have slightly increased. We hope it is a trend of the demand rebound, at least for the peak season at the year-end. Our customers and we closely follow to react appropriately to match the movement.
By Thomas
Voltrans Logistics – Your Ware Our Care
👉 Kindly contact us for more details: