HOW THE OCEAN FREIGHT RATES WILL BE IN THE COMING MONTHS?
HOW THE OCEAN FREIGHT RATES WILL BE IN THE COMING MONTHS?
We have seen a big drop in freight rates in Q3 against the same period last year when the pandemic was at its peak, especially in Pacific routings more than 50% dropped, but still much higher than that of before the pandemic. This will be good news to importers and exporters not only in Vietnam but over the globe, and so do the consumers.
It is believed that the reasons behind this could be:
– Reduction in demand from consumers of goods
– High stock in warehouses in the EU and US
– Reduction in production in China
– Ocean carriers are affected by claims from users and governments for limiting their freight rising.
– Reduction in transit time of transportation with less congestion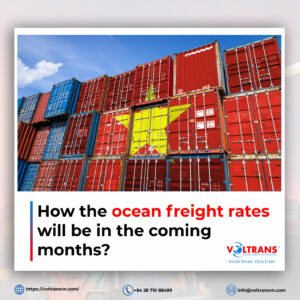 In all, Vietnam importers or exporters could expect better expenses for transportation in later the year, and so do the consumers. However, the demand vs supply changing unforecastable affected by the Russian- Ukraine war, conflicts in Gulf and Taiwan strait, as well as unsolved virus fights are challenges to the changes of logistics. Therefore, we – Voltrans Logistics would suggest to customers still be careful – hope for the best, and prepare for the worst in your businesses.
By Thomas