HIGH PRICE, WOULD VIETNAM COFFEE EXPORTERS GAIN BIG PROFITS?
𝐇𝐈𝐆𝐇 𝐏𝐑𝐈𝐂𝐄, 𝐖𝐎𝐔𝐋𝐃 𝐕𝐈𝐄𝐓𝐍𝐀𝐌 𝐂𝐎𝐅𝐅𝐄𝐄 𝐄𝐗𝐏𝐎𝐑𝐓𝐄𝐑𝐒 𝐆𝐀𝐈𝐍 𝐁𝐈𝐆 𝐏𝐑𝐎𝐅𝐈𝐓𝐒?
In the world market, coffee prices continued to maintain their upward momentum after the trading session on September 14. Brazil exported 3.67 million 60kg-bag of coffee in August, including 3.35 million bags of green coffee, up 33.3% over the same period last year, according to the Coffee Exporters Association Brazil (CECAFE). Vietnam's average coffee export price in August was estimated at 2,963 USD/ton, up 4.8% compared to July and up 25.8% over the same period.
However, would Vietnam coffee exporters be happy?
Coffee prices maintain historically high levels, which is good news for farmers and coffee exporters. Unfortunately, the Vietnam coffee exporters are not happy much as the export volume decreased due to a shortage of stock.
Not many exporters have sufficient volume to match the high demand from buyers. Data from the General Department of Customs shows that Vietnam's coffee exports in August to two main markets, the United States and the EU, decreased sharply, down 32.3% and 55%, respectively, compared to July, and decreased by 32.6% and 58.9% over the same period.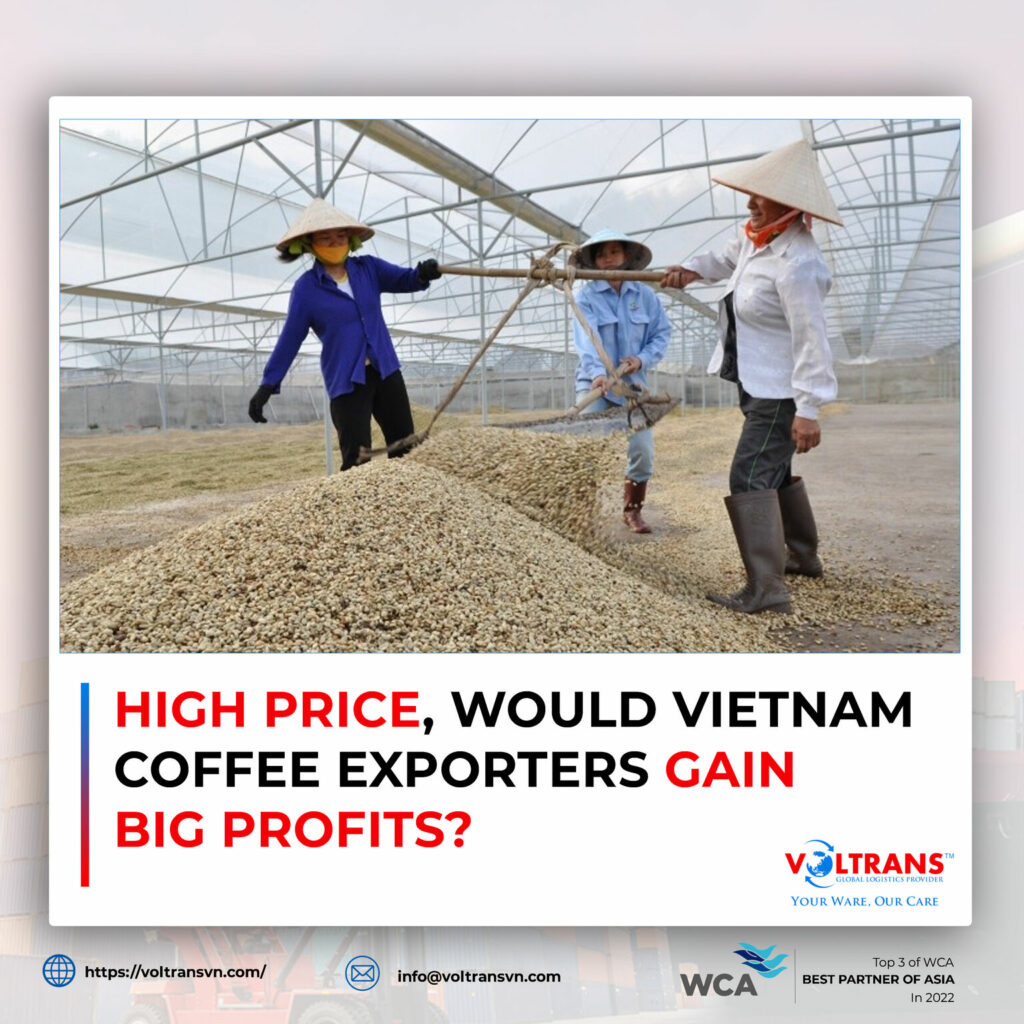 In some key provinces in the Central Highlands of Vietnam, the amount of coffee stored by people and some businesses is tiny due to crop failure, leading to scarce supply, mainly the amount of stored goods for export to contracts that have been agreed upon. The price of green coffee beans in the Central Highlands and Southern provinces increased by 300 – 400 VND/kg, bringing the domestic purchasing price to 65,900 – 66,900 VND/kg, the highest recorded since early September.
Since the sudden price increase in July and August, only a few producers, establishments, and processing enterprises benefited from coffee reserves when coffee prices peaked. While others have to buy raw coffee beans at high prices; therefore, the margin is limited.
We, Voltrans Logistics, entirely agreed with leaders of the Vietnam Coffee and Cocoa Association (VICOFA) that exporters would have long-term plans to store and keep the quality of coffee as high as possible. Besides, authorities and banks should also have supportive policies to help exporters with reasonable lending interest rates, access to purchasing credit, and market promotion in worldwide markets.
By Thomas
By Thomas
Voltrans Logistics – Your Ware Our Care