Vietnam airlines fight for direct US route
National carrier Vietnam Airlines plans to launch the first direct route between Việt Nam and the United States (US) this year 2018, with the destination being either San Francisco or Los Angeles in California.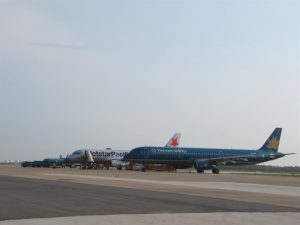 The US airline market is being exploited by many firms, who operate routes from the US to Việt Nam through transit points. There are many options for passengers, as they can fly from the US to Việt Nam via Japan, South Korea, Taiwan, Thailand, Singapore, Hong Kong, mainland China or Malaysia. For example, consider the transit points in Japan and South Korea; each point has two major Japanese and South Korean airlines directly flying to the US, which can connect flights to Việt Nam seamlessly.
The US is the fourth largest source of foreign visitors to Việt Nam, with more than 614,000 people coming in 2017, up 11 per cent from 2016, according to the General Statistics Office.
Source : Vietnam News