Foreign Investment Agency (FIA) statistics revealed that the Foreign Direct investment (FDI) in Vietnam disbursements rose 10 per cent year-on-year to US$6.75 billion in the first five months of 2018.
From January to May, FDI pledged in Vietnam totaled about $7.15 billion, an annual reduction of 31 per cent. Statistics also showed foreign investors had injected their capital in 17 industries and fields during the same period. The manufacturing and processing sectors attracted the lion's share of FDI with $5.18 billion, accounting for 52 per cent of total investments.
The real estate sector came second with $1.07 billion, making up 11 per cent of the total, while the wholesale and retail sector ranked third with $1.02 billion or 10.3 per cent of the total.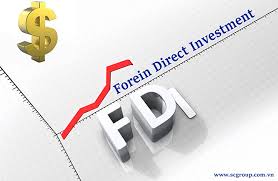 South Korea retained its position as Vietnam's leading source of FDI with $2.63 billion, accounting for 26.5 per cent of total investments in the country, followed by Japan with about $1.52 billion or 15.4 per cent, and then Singapore with $1.11 billion or 12 per cent.
Among 53 localities, HCM City lured the largest FDI in the five month period, with $2.93 billion, accounting for 24 per cent of the total FDI registered in the country. The northern port city of Haiphong and the capital city were the runners-up with $1.07 billion or 11 per cent and $835 million or 8.4 per cent, respectively.
According to the FIA, the foreign-invested sector posted a five-month export turnover of $66.7 billion, up 15 per cent year-on-year and making up 72 per cent of the country's total export value.
The sector's imports also experienced a slight increase of 7 per cent to $52.85 billion. That meant it enjoyed a surplus of $13.81 billion during the period, the FIA said.
Source: Viet Nam News